Landscape Architectural Services: 5 Principles of an Excellent Design
Good landscape architecture and design are essential in construction. If you are building a property, know that having an excellent team who handles landscape architectural services certainly has a lot of benefits. Once landscape architects evaluate the quality of your property's landscape, they can design plans that are not only aesthetically pleasing but functional as well.  
If you're a builder or a real estate developer, you may already be familiar with landscape design and architecture. More than that, it's best to understand the principles of what makes an excellent landscape architecture.
1. Effective landscape design is always intuitive
User experience is among the most important things construction builders and developers must consider. With planning and organisation, developments, either in private or public space, become accessible. This helps everyone navigate spaces with comfort and familiarity.   
If you're designing a space, you need to understand the objective of the design. Decide how you want people to see and use the space. Every landscape architectural service and design decision should be tailored to this objective. This way, you can create a space that is not only attractive but purpose-built.
2. Draw attention with form and shape
Landscape architects in Sydney are exceptionally skilled to translate your vision through elaborate design plans. They are experts in drawing attention to the space, which is an important principle for an excellent landscape design.  
Whether it be through hardscapes or softscapes, good landscape designs consider positive and negative spaces. All of which can reinforce the compositional element of the space and emphasise its attractive nature.
3. Play with colour
Texture and colour are among the best ways to evoke emotional and psychological responses. If you're planning to build a commercial district, bright colours will make the place more energetic and alive.  
On the other hand, neutral and subdued colours create a more calming effect. This means that colour tones significantly influence landscape designs and other structural elements. Having the right balance between the two is essential to convey a space that reflects harmony.
4. Keep balance and variety in mind
Everything that is placed in a design will carry visual weight. That's why it's important to be keen on every detail to ensure that the weight feels even throughout the plan. Providing a sense of equality through mirroring is not only the way to keep balance.  
In design, there are two types of balance: asymmetrical and symmetrical. The right mix of these two elements offers a similar imaginary weight.
5. Design for everyone
We've already mentioned how important user experience is in landscape designs. But what's more important is every design should be accessible for all. Universal design is a vital principle that focuses on creating spaces inclusive for everyone, regardless of age or ability.  
By designing spaces for everyone, we re-enforce the idea of socially inclusive architecture. Whether it be community centres, mixed-use properties, childcare development centres, or residential properties, you need to have a space that aims to create a positive physical and social impact on its users.
For All Your Landscape Architectural Services, Trust Greenland Design!
Are you looking for a consultancy team that can realise your goals and objectives while addressing all the principles that create a good landscape design in Sydney? Here at Greenland Design, we help you assess your needs and create a plan to suit your requirements. Our team of professionals will work closely to understand your varying requirements and develop landscapes that are cost-effective, accessible, and sustainable.    
With our expertise and experience in the industry, we can provide you with landscape design in Sydney that you've always envisioned. Please let us know how we can help with your next project. Call us on 0403 164 198 or email us at admin@greenlanddesign.com.au.
[contact-form-7 id="1123" title="Contact form 1"]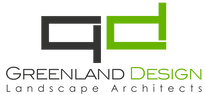 Greenland Design provides a diverse range of landscape architectural service. We pride ourselves on a high level of service and attention to detail. Our aim is to create living environments that are engaging and sustainable and reflect our client's unique requirements.